The Grand Hotel
---
---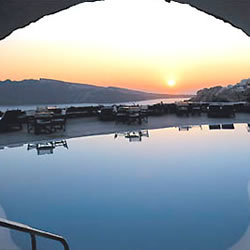 Sunset  at the Canaves Suites in Santorini…not the view of the parking lot in Chevy Chase.
This week we are just hanging out at the Canaves Suites Hotel in Santorini.
Nice.
But the blog is about the Embassy Suites Hotel in Chevy Chase, Maryland.
As we are partners with The Travel Channel, and The Travel Channel is on Wisconsin Avenue in Chevy Chase, the The Embassy Suites Hotel is just across the street from The Travel Channel, we spend an awful lot of time at The Embassy Suites.
An awful lot of time.
The Embassy Suites is about what you would expect, except for the price, which is not inexpensive, particularly for what you get.
What you get at Embassy Suites is a rather banal mid-range hotel in Chevy Chase.
The rooms are dark, as they are all painted shades of brown, just like the curtains and bedclothes and couches. Brown. Â 
The breakfast is included, but reminds me of 7th grade cafeteria at Lawrence Junior High School. Â Lines of people with trays, food workers slopping out the powdered eggs, stacks of sticky sweet donuts and a machine that dispenses Froot Loops.
There is a reason so many Americans are obese, and it can be seen on display here at The Embassy Suites. 
I suppose they keep the rooms dark so you can't see yourself.
In any event, on a whim I filled out one of those cards you get at the end of a visit that asks for your opinion and I told them what I thought.
Why not? I had just paid a bill for a few thousand dollars.
Interestingly, I got a call this week (in Greece), from Don Wald, who is the Front Office Manager at the Embassy Suites in Chevy Chase. Â 
That began a series of correspondence by eMail.
Don invited me to give my opinions and I did.
I told them that Hilton had made major improvements in their hotels, which also once were dark and skanky. Â The most recent stays in Hilton Hotels (UK and Athens) had rooms that had wood floors (nice!), clean open spaces, white linens and furniture, chrome and glass and flat panel monitors. Â All in all a very very pleasant experience. A big improvement for Hilton and a reason I will start looking for Hiltons in the future.
Then we got to the breakfast, which I found so terrible.
Why not bake fresh bread and croissants? Why not offer healthy food? I suggested that they get in touch with Mark Bittman, who just wrote Food Matters.  They could offer healthy yet fresh and wonderful cuisine for breakfast instead of frosted flakes and frosted donuts.
Don and I have now exchanged a few eMails.
It's an encouraging start, and it proves (at least so far) the importance of feedback in our increasingly participatory culture.
Will Don make any changes?
We'll see. 
But it's a good start.
Maybe the first thing the could do is lose the Froot Loops and the chocolate frosted donuts at breakfast. Then maybe strip out the carpeting?
---
---