4-Day Video Producers Intensive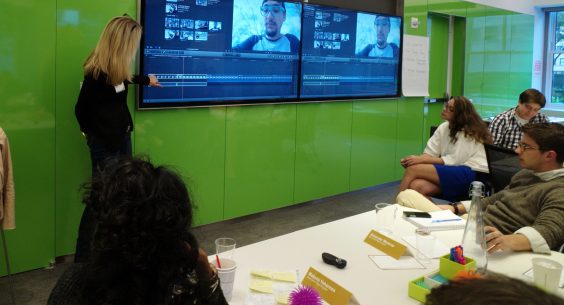 Our renowned Video Producers Intensive 4-Day Course is the only one of its kind anywhere in the world. Thousands of people have taken this training to jump-start their careers in video and television.
This course is aimed at people who want to produce television and video professionally, to turn it into a career or a business. Whether you want to create your own production company in order to sell to broadcast and cable TV, or to have a career working as a video journalist or video producer, or to switch from a print or photography career to creating video content, then this is the right course for you.
We currently offer this course in London and New York and places are restricted in order to keep the groups small. They are taught by Michael Rosenblum and his team and give you the chance to learn everything you need to know in order to shoot, edit, script, story-tell, produce and upload broadcast quality video stories.
This is a complete hands-on training course and during the training you will have the opportunity make two complete videos.
These are the same courses used to train professionals at the BBC, The New York Times, Conde Nast, McGraw Hill, Radio Free Europe, ARD in Germany, as well as the Travel Channel and many other major media and journalism companies around the world.
This course is specifically designed for the media professional who wishes to become proficient in the use of digital video both for broadcast and for online, including social media. It is open to current employees of media companies; those who wish to work for media companies and to those who would like to freelance and sell their work.
At the end of four days, you will be able to deliver a professional, broadcast quality video piece every single time.
No prior experience in video or television is required.
What we cover in this course:
Day 1
Welcome & Introduction to the world of 'Digital Video Production'
How the technological revolution in cameras and editing software has opened the door to a new kind of content creation using small cameras or smartphones; the importance of quality and the need for perfection.
The Michael Rosenblum 5 Shot Method™
How to shoot perfect footage every time using our unique shooting technique "The Michael Rosenblum 5 Shot Method" ™
Shooting sequences is the key to creating compelling video.
Shooting Instruction & Assignment #1
Instructions on how to get the best from your cameras and details of the filming assignment. Delegates go out to shoot following the guidelines given.
First Group Screening Session
All videos shot will be screened and critiqued before the group. Those who pass will go on to script and edit. Those who did not complete the exercise will go out and re- shoot the exercise.
Day 2
The Art of Video Storytelling
Telling a story in video is different to other storytelling methods. We teach you the essential components of story structure, what to lead with, how to create a story arc and how to write to pictures.
The Basics of Editing
Learning to edit is like learning a language so first you need to understand the grammar. In this lecture will cover concepts such as shot selection, jump cuts, match cuts and editing on movement. After that we will tour the editing interface and teach you the essential "moves" you need to learn to edit your first story. Narration and voice-coaching.
Editing
Trainers give one-on-one personal assistance to students to make sure everyone has a thorough understanding of the software and that all of the first pieces are cut.
Group Screening
All pieces are screened and critiqued before the group with comments and direction.
Day 3
Advanced Shooting
How to shoot things that move, camera movement and the motivated pan, basic audio, interview techniques and depth of field.
The Legalities of Creating and Publishing Video
It is essential to understand the legal side of publishing your work and how to avoid infringing copyright. In this lecture we will also cover filming releases and how to get clearance for the things you shoot.
A Roadmap to More Advanced Storytelling
How to make your videos both compelling as well as accurate. How to balance interview with b-roll; how to integrate narrative with sound bites. Why a formal interview is not compelling video. How to incorporate facts.
Review of Story Assignments
Where are you going and what do you expect to shoot?
Field Assignment #2
Go out and shoot your second story. Students will return to class and review their rushes with trainers on an individual basis to get sign-off to proceed to edit level 2.
Day 4
How to Apply Your Video Skills Following the Course
In this session we look at practical applications for your new video skill set; how to create pitch reels to sell your ideas; how to create video for your website or business; freelance opportunities for making a living in television & video.
Equipment
What equipment will you need to make professional quality video? We take you through the minimum requirements for equipment and give advice on the right equipment for you.
Advanced Editing
How to audio mix, how to add titles, graphics, music etc.
Editing Second Stories Continues
Editing continues with assistance from our trainers.
Final Screening Critique of Stories
Delegates receive feedback on their second stories and certificates of successful completion of the 4-day video programme.
We have a limited number of HD video cameras for rent, and you are welcome to use your Smartphone as a camera for this course. You will also need a Mac laptop with Final Cut Pro X installed. This software is available on a free 30-day trial basis from the App Store.
©2018 RosenblumTV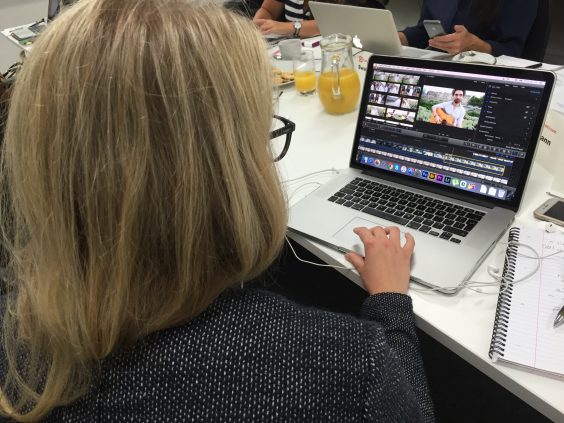 TESTIMONIALS
---
"A genuinely transformative course and life experience. Runs counter to everything I've been taught in PR for 15 years. This is the future. Thanks again, I'll use this course every day."
– Martin Grey
"I learned more from you in 4 days than 4 years at UCLA's film school and for a fraction of the cost."
– Evan Scherr
"This is one of the best learning experiences I have ever had. Really great stuff!"
– Timothy J. Engel
"The best course anyone could take."
– Christina Lowe
UPCOMING DATES
New York City
Midtown Manhattan
Four-Day Video Producers Intensive $1295
Wednesday June 6- Saturday June 9, 2018
Register
NYC dates don't work for you? Please click below to be notified when we announce new ones.
Notify Me
London, England
Four-Day Video Producers Intensive Course £995
Tuesday April 3- Friday April 6, 2018
Register
London dates don't work for you? Please click below to be notified when we announce new ones.
Notify Me