How To Start Your Own TV Network Today
---
---

If he can do it… anyone can..
There was a time not so long ago when, if you wanted your own TV show you had to work your way up the ranks.. and even then, it was next to impossible.
There were only three networks (yes, that was a long time ago) and air time was minimal, but if you made it to the top you could garner salaries like Dan Rather's $8 million a year when he took over for Cronkite.
The arrival of cable shattered that, replacing three networks with 500 channels, but the idea of a personality-driven show still dominated, though salaries were smaller. Emeril on The Food Network or Tony Bourdain on The Travel Channel are classic examples.
So was Glenn Beck on Fox.
OK. Â Nuts he may be, but he did draw in a crowd, and as such, (2 million viewers a night), Roger Ailes rewarded him accordingly.
Then, Beck went off the rails and Fox termianted his contract.
But Beck would see the writing on the wall – or the chalkboard, rather, and launched his own website/webcast GBTV.com, which stands for, GlennBeck TV.
Neat.
Beck's site is a monthly subscription – with 200,000 loyal subscribers so far.
So, here's a bit of math:
200,000 X $10 a month = $2 million a month x 24 months = $24 million a year.
And he is just getting started.
And what do you think the overhead here is?
Nothing?
Next to nothing?
And now Beck does not have to answer to Roger Ailes or Rupert Murdoch or anyone else.
Pretty good deal.
I think if Oprah were smart she would have trashed the whole idea of the Oprah Winfrey Network with Discovery (where I read they had spent $150 million on program development without producing a single show – is that even possible?) and instead launched O.com (come on, she can afford to buy the URL. (can you even get one-letter URLs?))
If Glenn Beck can get 200,000 subscribers Oprah could probably get 2 million (I don't think this is unreasonable).  That would translate to $240 million a year, almost all profit,  in income, which is, I think, a whole lot better than the OWN network is currently doing.
Now, what does this have to do with you?
Well, you might ask, how do I get started making my own online video network?
It's a lot easier than you might think, and WordPress, my favorite free software, is just the ticket.
Here is one I particularly like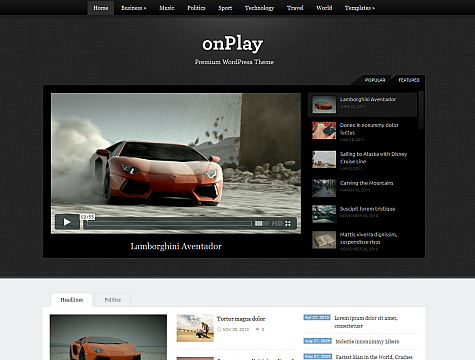 These are all very 'video friendly'.
WordPress clearly understands that video has now come to the web in a big way, and their templates (these are not free, but not too expensive) give you a good way to mount your videos and distribute them… or start your own 'network'.
Add a bit of Ustream this and you're in business.
And, even though OWN.com and Oprahwinfrey.com are taken, it turns out that Theoprahwinfreyonlinevideonetwork.com is still available.
Hurry!
---
---