Why Journalism Failed
---
---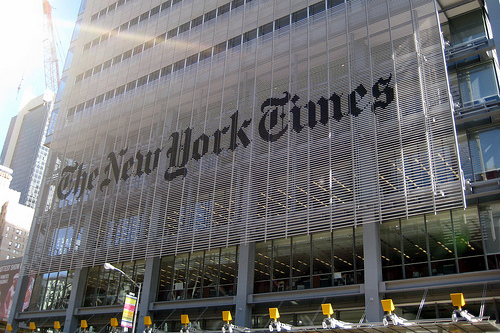 The last bastion of Feudalism in the US
If you went to Columbia University's Graduate School of Journalism, the odds are you could just as easily have gone to Columbia University's Law School instead.
Had you gone there, however, your life would be radically different.
For while journalists across the country are reeling and facing unemployment in 1929 like numbers, lawyers are doing just fine. They always have done just fine.
The reason is the difference between Law and Journalism as professions, and it is one worth examining; one which Mssrs. Downie and Schudson assiduously avoid.
At the end of the final year at Columbia Law School, firms come swarming, seducing the best and the brightest students to come and work for them. Â 
The firms, by the way, are nothing more than partnerships of lawyers themselves, often past grads of Columbia or other such fine institutions. Â 
The firms hire the first year associates, pay them reasonable salaries and then set out to further educate and nurture the associates; the best of which will become in their turn, partners in those very firms.
Thus lawyers have built for themselves a professional institution that goes far beyond the school. It embraces and takes care of the members of the profession. The lawyers are partners in the firms and the firms themselves exact enormous power in the world of politics and professions.  It works. 
The firms, ironically, come and go, but the institution survives and thrives. Â Lord Day & Lord, Coudert Bros.; Â Millbank, Tweed; Case, White; Fried Frank… and so many more. They provided a home and a locus for a generation of Columbia grads. Â 
Now, let's look at Journalism.
Journalists who graduated from Columbia in 1983, when I did, went to work for large institutions for the most part – The New York Times, The Wall Street Journal (where my classmates, Pulitzer Prize winners Geraldine Brooks, Tony Horwitz and Ron Susskind all went), NBC News, CBS News (where I went). Â 
These were very very powerful corporations. Â Far richer than Millbank Tweed.
Yet no one who went to work for The Wall Street Journal or CBS News or The New York Times was ever offered a partnership in those companies.
Those companies were owned by rich and powerful families. Â 
We, the Columbia grads – smart and aggressive, were offered the role of serf.
And not even well-paid serf at that. Â Honored serf, for sure. Â But serf never the less.
Thus we (and thousands of other journalists) never had any real interest in the 'business' of the business. And why should we? It was clearly out of our hands. Â In fact, our culture of journalism had inculcated in us the 'belief' that the 'business' should be handled by the 'business people' down the hall. Not us. Â Business was not for us. And neither, apparently, was equity.
This was a cultural belief deeply held by all journalists, much to their detriment.
So while the legal profession went on, nurturing it's graduates, training them, and making sure that they were not only well fed, but rich and successful; journalism, the supposedly more progressive of the two professions, was in fact the one that was the most troglodyte. Â The last vestige of the Middle Ages. Â 'Yes m'lord Sulzberger.. and doff your cap and tug at your forelock."
This is why journalism is dying today.
Because we did not pay attention. Because we had no vested interest in our own profession. Â Because we acted like and were treated like children. Infantalized.
Imagine a law firm in which the partners took a 'hands off' policy toward the very business of runing the firm! Â Sullivan Cromwell – filled with smart lawyers. But the 'business' part of Sullivan and Cromwell? Well, we leave that to the 'business' people.
And the partners at Sullivan and Cromwell, all of  whom take home well over $1 million a year. Suppose we just salaried them and fired them when they got to be around 50 years old and too expensive to carry.  Unthinkable? 
That's what happened to journalists.
Those who built the NY Times on their hard work and sweat an brains found themselves living only by the good graces of the beneficent Sulzberger family – whose only claim to fame and power was by dint of their position as President of the Lucky Sperm Club.
It's an outrage.
But more than that – it is the singular reason that we as a smart and well educated professional class did not pay attention to key events like The Internet Revolution From Which We Should All Have Profited Mightily But Did Not.
Because we were 'hands off".
And, this nonsense continues to this day.
Yes, Press Baron Murdoch…. my Lord.
Please don't fire me…. my Lord Press Baron.
Please allow me to scrape a few crumbs in to feed my family while you earn billions on my labor.
What is wrong with us?
Failure to own.
---
---