We All Live in Youtubia
---
---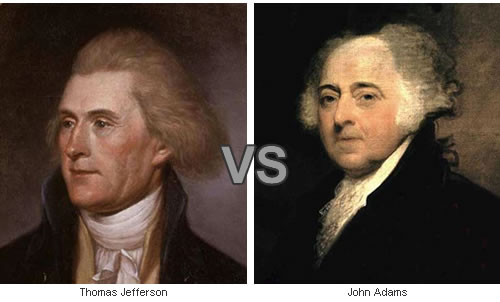 Larry Page and Sergei Brin….ca. 1776
July 4, 1776 and Thomas Jefferson, with help from a few other folks, finishes up the Declaration of Independence.
In the days when there was still a smattering of education in the United States, school children were required to memorize parts of it. Â I am sure that is no longer the case, but it still resonates pretty well.
Jefferson wrote it because it put into text a reality that had become increasingly apparent: Â the relationship between Great Britain and the colonies no longer worked. Â Jefferson also contextualized a larger truth, later to be enshrined in the US Constitution: that the entire construct of government, with the Divine Right of Kings given by God no longer made sense either.
What was needed was the construction of a Republic, wherein the power to rule flowed upward from the people. This is why the Constitution begins "We The People", as opposed to "God says". Â It is also why the Declaration of Independence says "we hold these truths to be self-evident'.
They were. To people, at least in America, in 1776. They may not have been so self-evident to King George III.
Well, here is another truth that is self-evident. Â 
We don't live in the United States so much any more. Â And we don't live in Great Britain so much any more. Â 
We increasingly live in Youtubia.
As of July 2009, Youtubia had a population of 303 million people.
That makes Youtubia the third largest country in the world.
Americans stream (are you ready for this one), 14.3 billion videos online every month.
Would you like me to repeat that one:
Americans stream 14.3 Billion videos online every month.
The source for that one is comScore Video Metrix, December 2008
We are video nation, and rapidly becoming video planet.
And we are only at the beginning. Youtube is only 3 years old. Where will we be in a decade of Youtube.
So maybe it is time to start thinking if the way we arrange our political and social affairs continues to make sense in a world that has changed so dramatically (or at least is in the process of change).
Perhaps instead of continuing to live in America, we should begin to think about what it means to live in Youtubia.
We are headed for Screenworld. A place where all our social transactions take place on screens.
We already spend 8.5 hours a day staring at screens (tv, computers and phones) and that also is only at the beginning.
When G4 comes to phones and they go to video, that number is sure to escalate, and the number of videos uploaded to the web will also explode as video based apps for iPhone start to take off.
So here is the question: Â as we all live in Youtubia, what 'truths' do we hold as self-evident now?
That every transaction we make, social, political or economic is going to have a video component to it.
That we all have equal access to put up whatever we want to put up and look at whatever we want to look at, 24 hours a day?
That the public will decide what they like and what they don't like, and they don't need anyone to tell them what to watch or when?
That if you want to run for public office or you want to serve in a public office you should be prepared to have every word you say and every thing you do recorded and made public all the time?
That there is no longer any notion of 'privacy', if there ever once was one.
That entertaining video is far more interesting than boring stuff?
What will Youtubia look like?
We don't know, any more than Jefferson and Adams knew what a Republic in North America would look like. Â But they tried. Â Knowing where we are headed, perhaps we should try as well, instead of just letting the chips fall where they may.
---
---