Equipment Recommendations
If you're just starting out, you'll need a camera and a laptop or desktop computer with editing software. An external (minimum 5400rpm) hard drive is also useful so that you don't use up precious hard disk space on your computer.
Cameras
Choosing which camera to buy is a big decision, and is as personal of a choice as what car you drive. The main questions to ask yourself as you shop around are:
What will I be shooting with my camera?
Are you shooting home movies of your family, or are you pursuing a more professional path? Today, even very inexpensive cameras shoot great HD-quality video, but the built-in microphone may not be enough if you are creating more professional work.
What is my budget?
How much camera can you afford? Don't forget to include any additional items that you'll need such as memory cards, external audio equipment like a shotgun microphone or a wireless microphone kit. The good news is that cameras are getting progressively better and cheaper every year.
Tape or Tapeless?
Today's camera market is becoming more and more dominated by tapeless technology (internal hard drives and flash memory cards), but tape cameras are still around. If you go with a tapeless camera, you'll need a place to store your footage to make more room on the internal hard drive or to re-use the memory card. If you go with a tape camera, you won't have to 'back up' the video, since you have the tape, but you'll still need to keep and store the tapes.
Here's a list of a few cameras that we like, in three different price ranges, but we always encourage anyone who is in the market for a new camera to take advantage of the exhaustive resources and user reviews on the web.
Basic Camcorders
Tapeless: Sony HDR-CX580V High Definition Camcorder – Buy here
Full High Definition, including 24p
Can also take 20MP stills – you won't need a point'n'shoot ever
Excellent low light performance
Great optical stabilizer to help steady those shaky shots
You can geo-tag your footage with the built-in GPS – never guess where you shot something again!
Tape (Mini-DV): Canon Vixia HV40 High Definition Camcorder – Buy here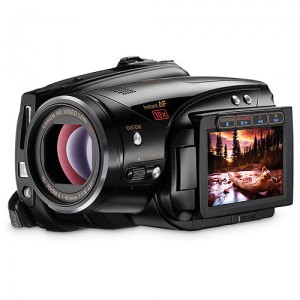 HDV/DV recording
1920 x 1080 HD
24p Native (60i) shooting rate.
Image Sensor and DIGIC DV II to reduce image noise.
SuperRange Optical Image Stabilization
---
Prosumer Camcorders
Tapeless: Sony HXR-NX30 Camcorder – Buy here
Innovative and portable, the cutting-edge Sony HXR-NX30 Palm Size NXCAM HD Camcorder with Projector is a handheld, excellently built HD camcorder that's capable of capturing AVCHD video in Full HD 1080p at 60 fps, as well as high-quality digital still images. It's equipped with 96GB of internal flash memory, an LED video light, a built-in projector, stereo shotgun microphone, XLR inputs and NightShot capabilities.
Shoots AVCHD Up to 1080/60p at 28 Mbps
1/2.88″ ExmorR CMOS Image Sensor
Super-Wide Carl Zeiss 10x Optical Lens
Built-In 96GB Flash Memory Capacity
Pro Audio Control & Level Adjustment
Built-In Projector & Dual XLR Inputs
Integrated Viewfinder & 3.0″ LCD Monitor
Built-In Shotgun Microphone
Balanced Optical SteadyShot Stabilizer
SD Card or Memory Stick Compatibility
---
Professional Camcorders
Tapeless: Sony NEX-FS100UK Super 35 Camcorder – Buy here

The NEX-FS100UK Super 35 Camcorder with 18-200mm Lens is Sony's first affordable and fully professional large-sensor video camera. This compact, highly modular camera comes equipped with a stabilized 11x zoom lens while using the same S35-size CMOS sensor as the higher-end PMW-F3. Unlike smaller, broadcast-style sensors or the larger "full-frame" sensors of some DSLRs, the NEX-FS100's imaging area matches that of standard Hollywood film cameras, providing complete compatibility with cine-style film lenses (via optional adapters) as well as any of Sony's E-Mount lenses. The sensor's large size offers a variety of other advantages, including increased control over depth of field, higher sensitivity in low light, lower image noise, and an exceptional dynamic range.
Exmor Super 35 CMOS Sensor
E-Mount Interchangeable Lens System
Uncompressed 4:2:2 & RGB Output via HDMI
NXCAM Recording Format (AVCHD)
Embedded Timecode
3.5″ XtraFine LCD Screen
1920 x 1080p Slow & Quick Motion
Dual XLR Audio
Memory Stick, SD/SDHC/SDXC Recording
---
Action Camcorder:
Tapeless: GoPro HD Hero3 Black Edition – Buy here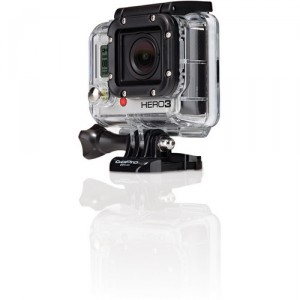 The HERO3 is designed for recording action sports and it comes with a rugged housing that is waterproof down to a depth of 197′ (60 m).
Supports 4K, 2.7K, 1440p & 1080p Video
Capture 12, 7 or 5-Megapixel Photos
12-Megapixel Low-Light Image Sensor
Wide Angle 6-Element Aspherical Lens
Camera Housing Waterproof to 197′ (60 m)
Built-In Wi-Fi & GoPro App Ready
MicroSD Card Slot & Micro HDMI Output
Wi-Fi Remote & Basic Mounts Included
Wi-Fi Remote Has 600′ Transmission Range
Control Up to 50 Cameras at a Time
---
ADDITIONAL EQUIPMENT
TRIPOD
Keeping your image stable is the hallmark of professional-looking video. Much like cameras, tripods very greatly in price, but a reasonably good one with a fluid head and a level can be purchased for less than $200.  For heavier cameras and smoother movements, look for higher priced brands like Sachtler and Miller.  Tripods make good investments, since you'll always need one no matter what camera you have in the future.
MONOPOD
Monopods can be very useful when you want to travel light, but still want some image stabilization. Decent Monopods can be purchased for less than $100.
AUDIO
Shotgun Microphones – For recording clear sound that is in front of the camera – works much better than in-camera microphones.  These can also be put onto a boom pole for even closer mic'ing.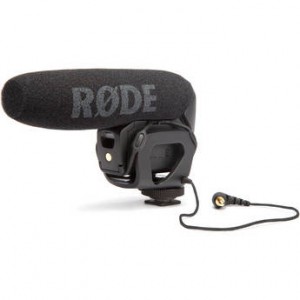 Rode VideoMic Pro Camera Mounted Shotgun Microphone (Stereo Mini Jack) – Buy here
This shotgun microphone's lightweight, unobtrusive design is ideal for long usage and comes with a custom shock mount. PLEASE NOTE – this is for cameras with a stereo mini jack (looks like a headphone jack on a smartphone).
Ultra Compact and Lightweight
Broadcast-Quality Condenser Mic
Supercardioid Polar Pattern
Integrated Shock Mount and Windscreen
3-Position Level Control
2-Step High Pass Filter
Standard Camera Shoe Mount
3/8″ Threaded Mount
3.5mm Output Plug
Uses a Single 9V Battery
Rode NTG-2 Condensor Shotgun Microphone (XLR or Stereo Mini Jack) – Buy here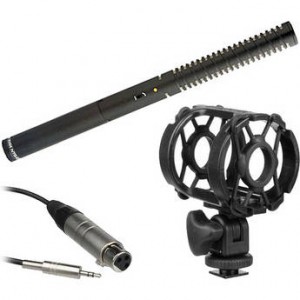 The Rode NTG-2 is a condenser shotgun microphone designed for professional audio capturing in the field or indoors. With a history of manufacturing quality studio microphones, Rode has implemented low noise output electronics and wide bandwidth, both of which attribute to the NTG-2's broadcast sound quality. This kit features a cable that adapts the XLR to stereo mini-jack, so you can use this microphone with professional, prosumer or consumer camcorders. It also has a shock-mount that attaches to your camera, to reduce any noise from your movements.
Battery or Phantom Powered
Supercardioid Polar Pattern
Excellent Off-Axis Signal Rejection
Selectable HPF: 80Hz
Wireless Microphone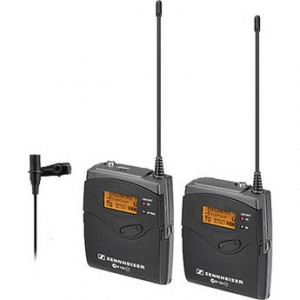 Sennheiser EW112-p G3 Camera Mount Wireless Microphone System – Buy here
Perfect for portable wireless operation – like interviews or documentaries. Includes a UHF diversity receiver, bodypack transmitter and ME2 lavalier microphone.
EK 100 G3 Camera Mountable Receiver
SK 100 G3 Bodypack Transmitter
ME2 Clip-On Lavalier Mic
1680 Tunable Frequencies Across 42 MHz
Auto Frequency Scan Finds Open Bands
3 Level Squelch To Block Interference
20 Banks With 12 Channel Presets Each
Compander For Clearer Sound
Auto-Lock Prevents Accidental Adjustment
---
Editing
Software
Basic
iMovie (Mac Only) – Buy here This is the "lite" version of Final Cut Pro, but they really didn't take too much out. Anyone using HDV, DV, or consumer/prosumer tapeless cameras will find iMovie to meet your specific needs, for a significantly cheaper price than the Final Cut Pro.  It comes for free on most Macs!

Premiere Elements (PC & Mac) – Buy here – Premiere Elements is an incredibly easy to use video editing program that allows you to create great looking videos very easily. With lots of great templates for text and graphics, you can spice up your videos and easily send them out to YouTube, the web, or burn to a DVD.

Professional
Final Cut Pro X (Mac Only) – Buy here – The ideal NLE for creative video editors, Final Cut Pro X introduces a new Magnetic Timeline, dynamic media organization, and blazing performance. Incredibly intuitive for anyone starting out and at an affordable price.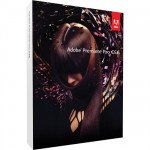 Premiere Pro (PC and Mac) – Subscribe to Adobe Creative Cloud – Adobe Premiere Pro is an excellent, professional editing program that works for both PCs and Macs. It is full of advanced editing tools, and can handle just about any video format you throw at it. It has advanced color correction tools, a strong DVD creation program, and full encoding program as well to get your video out to as many audiences as possible. Premiere Pro works seamlessly with After Effects, Photoshop, and other Adobe products. It is available as part of the Adobe Creative Cloud, which allows you to have access to all of the programs of the Creative Suite at a monthly rate instead of purchasing the program upfront. The program will be updated at anytime with the subscription, so it's a good way to future-proof yourself without expensive additional purchases.
---
Computers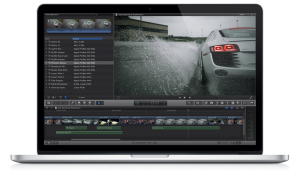 MacBook Pro 15″ Retina – Buy here
This is the king of laptops. Super thin, super fast and with the most gorgeous screen available on a laptop. With a speedy SSD drive, lots of memory and a strong graphics card – you'll crunch through tons of high definition videos. We recommend Final Cut Pro X with this.
2.6GHz Intel Core i7 Quad-Core
16GB of DDR3 Onboard RAM
512GB Flash Storage
nVIDIA GeForce GT 650M Graphics (1GB)
15.4″ Widescreen LED-Backlit IPS Display
2880 x 1800 Native Resolution
802.11a/b/g/n Wi-Fi, Bluetooth 4.0
Integrated Stereo Speakers
FaceTime HD Camera, Dual Microphones
Mac OS X 10.8 Mountain Lion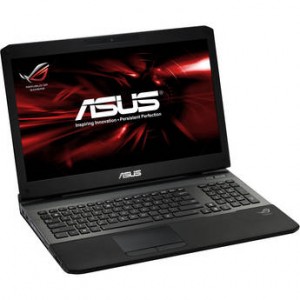 ASUS Republic of Gamers G75VW-DH73-3D 17.3″ Notebook Computer – Buy here
A monster computer with some serious heavy-lifting capabilities with video (or just about anything!).  Great with Adobe Premiere.
2.4GHz Intel Core i7-3630QM Quad-Core
16GB of 1600MHz DDR3 RAM
750GB 7200rpm HDD + 256GB SSD
nVIDIA GeForce GTX 670M Graphics (3GB)
17.3″ HD 3D-Ready LED-Backlit Display
1920 x 1080 Native Resolution
Blu-ray Burner
802.11b/g/n Wi-Fi, Bluetooth 4.0
Integrated Webcam, Microphone & Speakers
Windows 8 (64-bit)