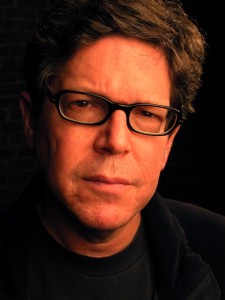 Michael Rosenblum
For more than 25 years, Mr. Rosenblum has been on the cutting edge of the digital videojournalist revolution. During this time, he has led a drive for video literacy, and the complete rethinking of how television and online video is made and controlled.
His work has included: The complete transitioning of the BBC's national network (UK) to a VJ-driven model, starting in 2002. The complete conversion of The Voice of America, the United States Government's broadcasting agency (and the largest broadcaster in the world), from short wave radio to television broadcasting and webcasting using the paradigm (1998-present). The construction of NYT Television, a New York Times Company, and the largest producer of non-fiction television in the U.S. Rosenblum was both the President and founder of NYT TV, (all based on the VJ paradigm 1996-1998). He was also President and founder of Video News International, a global VJ-driven news gathering company, with more than one hundred journalists around the world. (1993-1996). In partnership with Al Gore, he conceived of and founded Current TV. In partnership with Lisa Lambden, he founded The Travel Channel Academy (www.travelchannelacademy.com) and New York Video School (www.nyvs.com).
He has designed, built and implemented VJ-driven news channels around the world, including Time Warner's NY1 News, Associated Newspapers (UK) London based Channel 1, Young Broadcasting stations in the U.S., Switzerland's largest commercial TV broadcaster, TeleZuri, as well as a host of smaller projects such as Eritrea's ERI-TV and Sri Lanka's SLBC. His consulting clients include The BBC, TV-24/Germany, TV4/Sweden, Oxygen Media, BBC, KBC, TVL, Danmarks Radio (DK), TV-3 Sweden, Norway & Denmark, Tokyo Broadcasting, and Korea Broadcasting.
As a producer, Rosenblum has produced or overseen production on more than two thousand hours of programming for both network and cable television. His shows have included the long-running Trauma: Life in the E.R., Paramedics, Police Force, Labor and Delivery, and Science Times. These series have aired on TLC, Showtime and National Geographic channels. He has also produced for ABC, CBS, Oxygen and the BBC. Most recently his groundbreaking 5 Takes series for Discovery has completely rewritten the production paradigm. The company currently has more than 300 hours in production for this year alone.
He has conducted his unique VJ training classes all over the world, from Thailand to Marrakech, and has lectured extensively both overseas and in the U.S. He is an adjunct professor of communication at New York University, where he teaches Television and the Information Revolution, a course of his own design, and at The Bauhaus in Germany. His Brussels based Rosenblum Institute trains European journalists to work as VJs. He is the author of Videojournalismus (Germany).
Lisa Lambden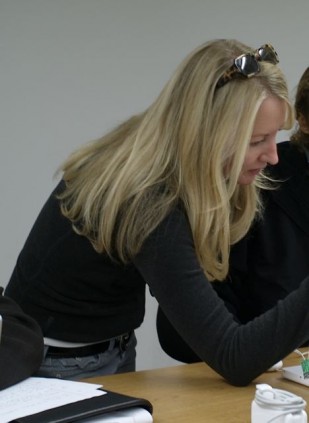 Lisa Lambden is the Managing Director of Rosenblum TV and she runs a group of media companies based in New York producing Video Journalism-driven programming, consulting on digital media projects and training thousands of people worldwide to create video content. Lisa also serves as both General Manager and Executive Producer for a group of hyper-local TV stations the company runs providing content for Verizon, putting out daily local stories in Washington DC, Long Island and Northern New Jersey.
Lisa Lambden is also the creator and Managing Director for New York Video School, an online video training school launched in 2009 and a founding partner of The Travel Channel Academy. The academy founded in partnership with The Travel Channel trained hundreds of the channel's viewers to become producers of video content.
Lisa has produced hundreds of hours of live news and cable TV programming both in the UK and the US. She was Executive Producer of Drew Carey's Sporting Adventures and also the groundbreaking cable series 5 Takes.
Since 2007, Lisa Lambden has been the Director of Digital News Affairs, a global digital media conference held each year in Brussels, Belgium. She has also managed and participated in digital training courses for a wide variety of clients, including McGraw Hill magazines, Conde Nast, the US Government and the government of St. Kitts and Nevis.
Lisa trained as a journalist and prior to joining Rosenblum TV, she spent 17 years with The BBC, holding a wide range of positions from on-air reporter to running TV newsrooms. Her last job with The BBC was running the wholesale conversion of the national network to the VJ model. In this capacity she oversaw the training and conversion of more than 750 BBC reporters, correspondents, producers and technical staff.
She also designed and ran the first VJ-driven newsroom in the UK. Later she participated in the development of the first hyperlocal TV and online news stations in Birmingham, England.
Kelly Korzan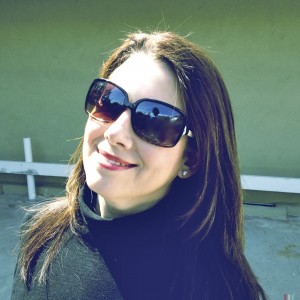 Kelly is the Director of Training, our In-House editor and heads up our LA office.
She has been with Rosenblum for more than 12 years and has trained VJs all over the world.
She has also worked on many Rosenblum TV productions, including 5 Takes Latin America, 5 Takes Pacific Rim and 5 Takes USA for the Travel Channel. As a result she is one of the best fast turn producer/editors in the world.  She has authored much of the training material for the training bootcamps and for TheVJ.com.
Prior to working at Rosenblum, Kelly was head editor for TV series such as Queer Eye for the Straight Guy for Bravo Networks and Frontier House for PBS.
Ernest Bujok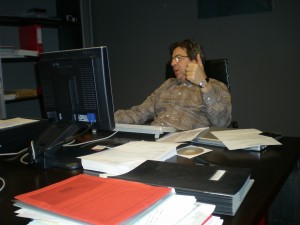 Ernest is the Director of The Rosenblum Institute in Brussels, Belgium (www.rosenblum-institute.com), and heads up our Brussels office.
He is also Managing Director for Digital News Affairs (www.DNA2009.com), our yearly global media conference.
Ernest has built and manages some of the most advanced and sophisticated VJ-driven TV stations in the world.
©2018 RosenblumTV