Newark Star Ledger gets 7 Emmy Nominations!
---
---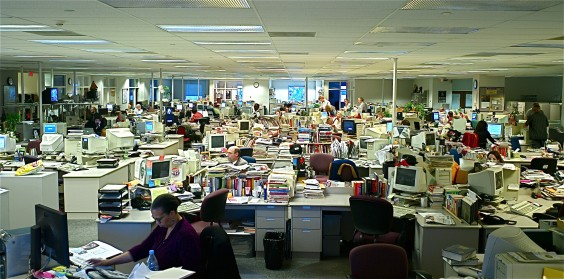 Newsroom and TV studio…
Yesterday, the Newark Star Ledger received an astonishing 7 Emmy Award nominations for its video work.
These are local news Emmys, and this is the first time that newspapers have been allowed to participate.
The fact that the Star Ledger took 7 nominees, in a variety of categories, is a stunning tribute to the folks at the paper who only embraced video and the VJ model a very few years ago.
As we trained them, we feel a distinct sense of pride, but the credit goes to them.
They are the ones who took to the streets of Newark and New Jersey to report, shoot, edit and produce award winning video work.
Clearly, this is a major step forward, and a major acknowledgment of the quality of the video work at the SL.
We have always believed in this model.  What happens when you put the power of video into the hands of great newspaper journalists?  Clearly, the Academy agrees. Something great.
That this comes on the heels of ABC News announcing that it is going to move to the VJ model as well speaks volumes to those of us who have believed for a very long time that most powerful combination in the world of journalism is a great reporter with a digital camera in their hand.
Congratulations to Brian Donohue, Nyier Abdou, John O'Boyle, Andre Malok, Amy Nutt, Bumper DeJesus and Seth Siditsky.
Great job guys, really great job.
Congrats!
---
---